Learn How To Make Your Business Stand Out In The Crowd
'Prosper – Even During Difficult Times'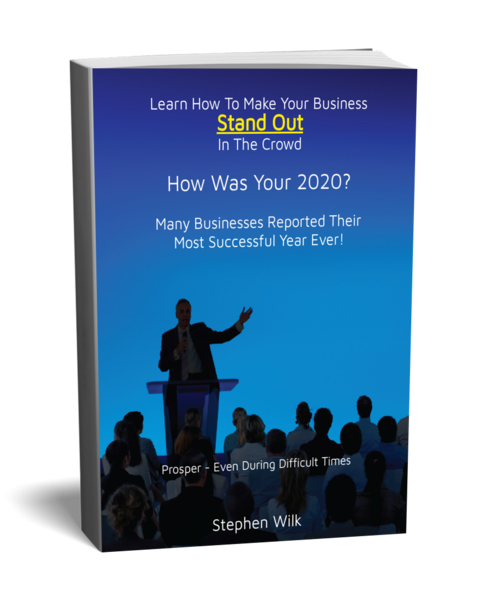 Learn How To Make Your Business Stand Out In The Crowd - Stephen Wilk
If You Have Arrived At This Page It Is By Invitation Only
For a limited time you can claim an authorised digital download of Stephen's book
'Learn How To Make Your Business Stand Out In The Crowd'
Authorised Digital Download Price $4.97

Confirm Interest. This is only for you if you want to take your business to the next level and desire extra promotion, visibility and exposure. In other words, get your business in front of more prospective clients and customers.

Purchase using PayPal – Payment is processed by 'admin@wheels4websites.com' and this is the name that will appear on your bill.
As soon as payment is made your will be directed to the authorized diigital download page

A comment from Stephen Wilk
'After speaking with hundreds of business owners I believe it is a real shame, a pity, that so many are struggling. 97% assume they know what is available and on offer but fail to give their options due and proper consideration.
The 3% who get it – they are at the top and seeing the results they deserve'
'The Ultimate Way To Stand Out From The Crowd – Be Omnipresent'
The Focus of The Book – It Shows You How To Correct This Business Problem
"I used to find that getting my business to stand out from the crowd was really difficult.
Yet it is one of the most important things that you can do.
If you don't stand out, you just end up lost in the mix with everybody else.
In a typical day, everybody is subjected to a barrage of branding efforts, sponsored social media, commercials, advertisements, and all other methods of trying to gain our attention.
If you fail to get 'attention' new business and sales are never going to happen. Every sale begins by gaining that initial attention. It may be online or offline. If you cannot gain attention and begin the conversation, your efforts are going nowhere."
The book is Stephen's story of how he came to discover a little known or used method of quickly gaining attention, visibility and exposure.
Turning it into an on-going business strategy, Stephen has hundreds of successful results that prove the power of the method he shares.
This is something any business or professional looking for an edge can use to quickly project themselves into an omnipresant position in their marketplace.

Essential ingredients if you wish to start, carry on or grow any type of business or if you wish to promote your personal brand.

This Free Authorised Digital Download Can Be Removed At Any Time & Without Notice